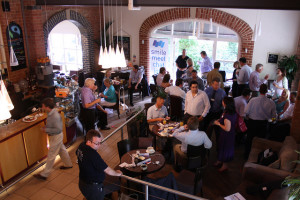 I recently joined a great business to business networking community.
It's called 4Networking and it's aimed at small and medium-sized businesses in the UK.
Here's a Great Business To Business Networking Group
4Networking is now one of the UK's largest and fastest growing business to business networking communities.
Brad Burton's 4Networking
4Networking is the brain child of Brad Burton, an entrepreneur originally from Manchester.
He started 4Networking 10 years ago this year, when he told his then employer "to stick his job up his arse".
The emphasis in 4Networking is on creating a relaxed, no-hassle, no-pressure environment. Without the stiff, formal suit and tie atmosphere you tend to get with the old style Chamber of Commerce type events.
Brad refers to the latter as "cufflinking" – where people try to impress and upstage each other through power dressing. Very apt description. I've come across more than a few cufflinkers myself in my time!
Another great thing about 4Networking is that it operates both offline as well as online.
4Networking organizes regular meetups across the country for entrepreneurs and business managers so they can actually get to meet each other face to face.
I first heard about Brad Burton and 4Networking about 4 years back in a podcast about entrepreneurship. I then forgot about it.
Then a few months ago I came across a video interview with Brad Burton in a podcast called LondonReal on Youtube.
So I decided to look into 4Networking and I promptly joined the group.
You can check out 4Networking at www.4networking.biz/
Brad has a great deal of energy and enthusiasm for business and entrepreneurship. Some find his style a bit over the top, but I for one like his no-nonsense plain talking approach.
Brad believes people in business should be themselves first and foremost.
And that instead of going for the traditional heavy hard sell, that you should take the time to get to know people first and build relationships, rather than trying to push for business right away.
This is a refreshingly different approach to the usually regimented and tightly controlled style of most traditional business networks.
Get Off Your Arse by Brad Burton
Brad wrote a book about his experience and outlook on entrepreneurship called Get Off Your Arse.
His publisher advised that he should remove the last word from the title, as they feared the large bookshop chains would refuse to stock it.
The publishers weren't too happy about a chapter called "Seven Knobheads" either – about how you will invariably encounter seven people in your life who will pour cold water on your entrepreneurial ideas. There's also a chapter on the follies of "cufflinking".
But Brad stood his ground and kept the title as it was – and the book went on to become a business best seller.
He's since also written a couple more books on business as well.
You can read reviews of Get Off Your Arse by Brad Burton and get a copy of the book on Amazon. Just click on the link below.
Image Attribution: 4N Witney 30th June 2010 – Courtesy of Alison Thompson