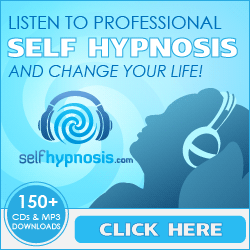 A good way to help you achieve a state of self hypnosis is to use a guided hypnosis audio program from SelfHypnosis.com.
Self Hypnosis Audio From SelfHypnosis.com
Self hypnosis can be easier to perform if you use a guided self hypnosis audio program.
There's one very good producer of self-hypnosis audio program that I can recommend. They're called SelfHypnosis.com and in my opinion they are one of the best available.
SelfHypnosis.com have been in business for some 15 years and they produce over 150 different self-hypnosis audio programs individually designed to cover a range of diverse subject areas such as addictions, business and careers, confidence and self-esteem, education and learning, fears, phobias, habits, performance, personal development, weight loss and lots more.
All the audio programs from selfhypnosis.com are produced and voiced by top professional hypnotherapists. And they're available at a fair and affordable price. In fact, they are truly excellent value for money.
More than 150 self hypnosis programs to choose from
All recordings are professionally produced
Developed by top hypnotherapists
A choice of four different authors – male and female
A choice of formats – over 80% of recordings are available in CD format as some people prefer CDs
Instant download – all MP3 downloads are instantly available upon ordering – including for CD format
Apple friendly – FREE iOS app to login and download purchases directly onto Apple devices
Risk free – All purchases come with a 90-day full money back guarantee
Lifetime updates – all customers of SelfHypnosis.com enjoy free updates for life on any sessions ordered
Selfhypnosis.com are well established and trusted online for over 14 years
What I especially like about Selfhypnosis.com is that they have a strong ethical commitment to honesty and transparency towards their customers and their audio programs really are top quality.
To find out more, check out the Selfhypnosis.com website at www.selfhypnosis.com.
Disclaimer: This article does not constitute or provide medical advice, nor is it intended to diagnose, treat, cure or protect against any disease or illness. This content is intended for informational purposes only and is not a substitute for professional medical advice, diagnosis, or treatment. If in doubt, consult a medical professional. Do not practice self hypnosis, or listen or watch hypnosis audio or video if under 18, if pregnant, or suffering from a medical condition without prior medical approval, or while driving or operating machinery or equipment. Always select an environment that is safe and secure. Any instructions given may be used only at your own risk.