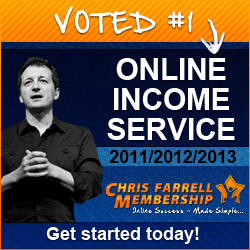 Want to start your own online business – but don't have any marketing or computer know-how?
Here's something that will definitely interest you.
At Last – An Internet Marketing Training Course For Ordinary Folk
Chris Farrell Membership is an online training course specially designed for newbies to Internet business with no previous knowledge of Internet marketing or the technical side of building and operating a website.
Chris Farrell Membership is a comprehensive, practical, hands-on training program in both Internet marketing as well as the technical aspects of building an online business.
This program is one of the most highly rated training programs available online, having now been voted "Best Online Income Service" by IMReportCard for no less than FOUR years in a row.
Chris Farrell Membership is run by Englishman Chris Farrell.
The course makes intensive use of video, webinar and podcast material to lead you through the stages involved in starting a successful internet marketing business.
Most of the video material is presented by Chris himself. Chris has an open and friendly style and he explains everything in clear English which makes it easy to follow.
Don't Know Anything About Marketing? Complete Novice When It Comes To Computers?
The great thing about Chris Farrell Membership is that the course does not require any previous marketing or computer technical knowledge. The course teaches you everything from the ground up, starting right from the basics.
Chris Farrell Membership is especially strong on the practical side. The course shows you how to actually do things. For example, the actual configuring and editing that's involved, and which buttons you have to press.
All this is extremely valuable when you're a complete beginner to Internet marketing.
There's also an initial coaching program for all newcomers included with the training called "21 Days to Success".
This is a series of video-based modules spread out over 21 days to get you started and up and running right away.
Why Chris Farrell Membership Is THE BEST Internet Training Program For Newbies
There are plenty of Internet business courses out there for the computer whiz-kids and the Internet Marketing pros.
Chris Farrell Membership is a 100% practical Internet marketing training program for ordinary folk.
The course assumes nothing – neither marketing nor computer technical knowledge.  Chris Farrell Membership teaches you everything from the ground up right from the basics.
The course is easy to follow which means you get going quickly and with the minimum of fuss. All the information is presented in short video lessons and supplemented with blueprints and manuals which is easy to digest and understand and makes it fun to learn.
Chris Farrell Membership offers excellent online support, both from the support team and in the members community forum. You can ask questions and receive back answers promptly about anything related to online business.
The program comes with a great deal of already "done for you" promotional marketing material – website pages, landing pages, graphics, pre written, email letters, website templates.
What's more, the very low monthly membership subscription means you can get started for minimal outlay.
Chris Farrell Membership Will Show You:
how to set up a domain name and web-hosting
how to create your first website and how to use WordPress
how to write effective sales pages and sales letters
how to set up an email list
how to create and market information products, including your own eBook
how to utilise social media and podcasting
Chris Farrell Membership is THE Internet Marketing Training Course For Beginners
Dont know how to build a website? Dont know the first thing about online marketing?
Don't have previous computer technical knowledge?
Then this is the course for you.
Chris Farrell is an excellent teacher and Chris Farrell Membership is a great internet marketing training program for complete newbies to the sector.
If this sounds like you, then Chris Farrell Membership is a great choice for your internet marketing training.
How Much is Chris Farrell Membership?
Special LOW-PRICED Trial Membership!
You can trial Chris Farrell Membership for 7 days for just $4.95.
After the first week the subscription is only $37 per month.
That's GREAT VALUE for money.
PLUS – THERE'S ANOTHER BONUS:
Free Unlimited Web Hosting For All Members
Chris Farrell Membership also offers unlimited web hosting to members at no extra charge.
This alone is worth at least half the monthly membership.
It also means you will be able to start up right away without the hassle of arranging separate hosting services. This is an invaluable and practical bonus for all beginners.
You Can Cancel Your Membership At Any Time
Unlike some programs, Chris Farrell Membership doesn't lock you into a long membership period.
All subscriptions are on a monthly basis.  So you can cancel whenever you wish – with no questions asked.
What have you got to lose?
How To Join Chris Farrell Membership
Go to www.chrisfarrellmembership.com
Chris Farrell Membership has to be the best and most reputable internet marketing training course for newbies!
What's more, you get all this for just $37 per month.  And just $4.95 for the first month.
That's FANTASTIC VALUE by any measure.
Claim your 7 Day Trial of Chris Farrell Membership NOW – and take the first step towards building your own online business.
Visit www.chrisfarrellmembership.com and get started building your business right away.