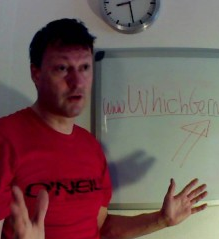 Hi, my name's Kevin.
I'm from London, England but I've been expat for many years, living in Europe and as well as US and the Far East at different times.
Right now I'm living in Lisbon, Portugal.
For many years I was a self-employed IT consultant, working mainly for big name corporate clients as well as smaller startups.
After many years of high-stress, high-income and high-consuming lifestyle, I realized I was burnt out. I wanted autonomy, control and independence in my life.
I realized I'd had enough of office stress, management micro-control, hierarchies, backstabbing colleagues and their jealousy. I'd had enough of commuting and big offices.
I wanted to work remote, run my own businesses, become location independent – and also to become financially independent.
My background isn't anything special. I'm not from a wealthy family or anything like that. Due to circumstances at the time I left school with no qualifications. I studied in the evenings at further education college (similar to US community college) to gain the qualifications to enter university, where I graduated in Economics & Politics, followed by a postgraduate course in Marketing.
After spending a crazy couple of years working in media sales in central London, I left the UK and moved to Berlin, Germany. There I did a graduate training course in IT at Siemens and worked in the IT sector for many years, initially as a salaried employee and later as a freelance contractor.
Through my IT freelancing I got to see the insides of many big corporates and also smaller companies and startups. I enjoyed high earnings and was able to have more time off for vacations and travel than the average employee.
But I still realized that long term the big corporate contracting life was not for me. Above all I wanted to be creative.  To be allowed to think my own thoughts – and put them into writing. And to do more with my life.
Since then the wheel has turned full circle (sort of) and I've now gone back to marketing – but this time online and with my own business. Although I still do the occasional IT project, my main business activity now is working as a freelance content marketing consultant specializing in sales copy and web content.
Although I take on content marketing work in a variety of different niches, my main area of specialty is IT and investment. I'm especially interested in digital currencies and blockchain tech.
I now work entirely remote, location independent, and with clients based all over the world.
I'm also an active investor and financial market trader. This is the second pillar of my strategy. I trade in stocks, bonds, commodities, cryptocurrencies and even the occasional forex position.
I started BreakFreeRebel.com as a blog to accompany me on my journey toward financial autonomy and independence.
I've come part of the way along my path towards my goals and there's still some way to go. My aim with Break Free Rebel is to share my experiences and know-how as I go with other people who are also interested in doing the same.

Join the Community of Break Free Rebels and Get Started NOW!