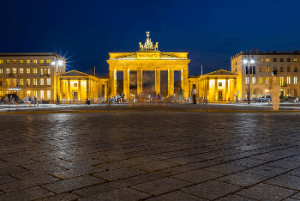 Berlin is one of the most popular cities in Europe right now.
Thousands of people are moving to Berlin every year to enjoy everything that Berlin has to offer.
Berlin is the most exciting, lively, and most happening capital city in Europe.
And the question many people ask is: do you need to speak German to move to Berlin?
Do You Need To Speak German To Move To Berlin?
Basically yes.
German is of course the native language in Berlin. Many Berliners have at least some knowledge of English, but it varies from person to person.
Younger people generally speak good English. With older people there tends to be less knowledge or ability with English.
In the eastern part of Berlin knowledge of English among older people is definitely weaker. This is due to the fact that in the Communist GDR days of East Berlin, Russian rather than English was the first foreign language taught in schools.
Bank ATM machines, public transport ticket machines, public phones and so on can usually be switched to display English.
But for job seeking in Berlin, despite what some people might tell you, the fact is you'll need to speak German to even to a chance to be considered as a potential candidate for many positions.
The city isn't as accommodating of English speakers as for example the Netherlands, where it's possible to find a decent job without having to speak Dutch. Beyond simple tourist trade interaction, people in Berlin aren't so willing to speak English all the time with newcomers.
There are some exceptions, such as the IT and Web start-up sector. But generally speaking, you'll be placed at a disadvantage in the job market in Berlin if you don't speak German.
You also need to know German for your interactions with the public authorities, such as for visa permits and the like.
Government officials in Berlin are officially required to speak German in their dealings with the public. This they say (ironic as it sounds) is to avoid the potential for mistakes in understanding.
Being able to speak German will also be to your advantage when looking for an apartment. Not to mention day to day living and socializing in Berlin.
My advice: Start learning German before you arrive in Berlin.
One of the quickest and easiest ways to start learning German is to invest in an MP3 audio course.
This is what I did prior to moving to Berlin and it was by far the best investment in learning German I ever made.
Start Learning German BEFORE You Move To Berlin
Before you make your move to Berlin, you can give yourself a head start in learning German by signing up for the MP3 audio course from GermanPod.
GermanPod is now one of the world's most successful digitally based online language courses. It's not hard to see why.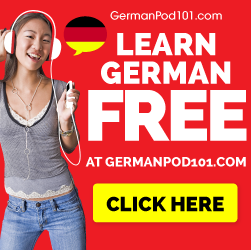 GermanPod – The Language Course For Busy People
GermanPod is an audio MP3-based German language course designed for people who lead a busy life.
It's THE best way to learn German quickly in your own time, as and when you want – and at your own pace.
You can use GermanPod on your MP3-player, smartphone and tablet, as well on as your PC or laptop.
So you can be learning German wherever you are – and whenever you're on the move.
With GermanPod you can make the most of those spare moments of time you have which otherwise just get wasted.
Like in the car, commuting on the bus or train, when standing in a line, or sitting in a waiting room.
Learning German With GermanPod is Easy, Fast – And Fun
What's more, GermanPod teaches you the modern German that people speak in everyday life in Germany.
GermanPod comes with four different learning levels -Absolute Beginner, Beginner, Intermediate, and Advanced. So you can choose the level which suits you best.
That makes learning German with GermanPod very easy, fast and fun.
I myself learned German using the self-study audio method before I came to Berlin and I found it the fastest and easiest way of learning to speak and understand German.
My advice: Check out www.germanpod101.com before you move to Berlin and get started right now on learning German
GermanPod is Great Value for Money
GermanPod is available on a monthly subscription basis. It's "pay as you go". Unlike some German courses, you don't have to part with a large sum of money.
This means you can use as much or as little of GermanPod as you like and as your budget allows, without getting tied in to a long-term contract like so many other courses try to do.
For just $8 a month you can get started with GermanPod.
For longer term advance subscriptions there are discounts of between 11% and up to 60%.
And if you're a student then you can benefit from an EXTRA 20% DISCOUNT on a 12-month subscription.
This makes it very inexpensive to get started learning German with GermanPod.
And it gives you the flexibility to use as little or as much of GermanPod as you wish, when you wish – and according to your own budget.
In short, GermanPod is probably the best investment you can make to ensure the success of your move to Berlin.
You Can Try GermanPod for FREE!
GermanPod gives you an UNLIMITED Lifetime Free Trial of the first three audio lessons with NO obligation.
So you can test drive GermanPod for yourself before you buy.
PLUS you also receive a FREE 7 Day Trial of GermanPod's Premium package.
You can sign up for a free GermanPod account right now at www.germanpod101.com
By the way, GermanPod comes with a 60-day Money Back Guarantee. So there's no risk whatsoever.
Start preparing for your move to Berlin NOW by learning German the quick, fun and easy way with GermanPod.
Want To Know More About GermanPod? – Read My Full Review of GermanPod Here
Visit GermanPod101 at www.germanpod101.com to take the FREE TOUR – and get started learning German right away!